Link opens in new tab
Thanks for your support -- It does make a difference
I stumpled upon a contraversial website called standardJS.com the other day.
Originally I didn't bother the name until a friend on social media commented on it, and then I looked more into the naming.
The website offers some guidelines for writing JS. It tackles a lot of areas with common disagreements like banning semicolons and defining tabs as 2 whitespaces.
However, as the domain shows, this is called StandardJS.com!!
This quickly reminded me of another story
Standard Markdown
In 2014, Jeff Atwood, a celebrity also known as CodingHorror, decided after many frustrations with fragmentation of Markdown Flavors, to create a Standard Markdown flavor.
This is how it started: Standard Flavored Markdown
And This is How it ended: Standard Markdown is now Common Markdown
You see, Jeff, being a celeberity, got his project very popular by just creating it. This also caused the flame wars to go strong. And the expected outcome to happen.
You'd think this should be a good lesson for future Open Source Standard projects, but it wouldn't be software if we don't just re-implement the same mistake every few years, would it?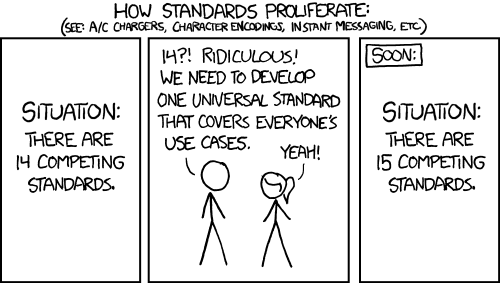 Standard JavaScript
Then there is standardJS.com thingy. The creator writes the following in the FAQ (emphasis mine):
Q: But this isn't a real web standard!

A: Of course it's not! The style laid out here is not affiliated with any official web standards groups, which is why this repo is called feross/standard and not ECMA/standard.
But the domain is NOT FerossStandardJS.com , it's just StandardJS.com.
Even worse, there's a static analysis NPM package, that is supposed to help enforce the guidelines in Pull Requests etc., for repositories that implement the standard.
Guess what's the name of the npm package?
Correct, it's standard (Yes, No JS even, it is THE Standard!)
"I Disagree" As a repository label
Of course several people tried to object to the naming, via the most appropriate Github way to object to things, project Issues.
They called claiming the word Standard as "Obnoxious", "Misleading", and plain "Arrogant".
All issues discussing the name went into a Github Issues label called "I Disagree".
Middleground
I tried to do it differently, and suggest just changing the non-constrained standardJS.com domain naming.
My issue was quickly closed with the same label (in about 11 minutes), thinking that it disagrees with the project naming.
Once I explained it was about the domain (once more), it was opened, and marked as a Question.
Here it's: Abandon / Redirect standardjs.com domain to something else
Thinking About It
The whole thing is a bit weird though. Isn't?
One doesn't just declare standard over NPM or JS without being in the official authorities for these. io.js didn't call itself StandardNodeJS, even though it had old NodeJS contributors in its committee.
Am I crazy to think that we should have gone past this kind of issues?
How did I learn that?
As a bonus for coming here, I'm giving away a free newsletter for web developers that you can sign up for from here.
It's not an anything-and-everything link list. It's thoughtfully collected picks of articles and tools, that focus on Angular 2+, ASP.NET (4.x/MVC5 and Core), and other fullstack developer goodies.
Take it for a test ride, and you may unsubscribe any time.
You might also want to support me by checking these out [Thanks]:
Links open in new tabs
Thanks for your support -- It does make a difference